LG Chem Establishes EV Joint Venture with General Motors of USA
■ Held joint venture agreement signing ceremony with the attendance of General Motors Chairwoman Mary Barra and LG Chem Vice Chairman Shin Hak-cheol
- 50:50 shares, each company invests 1 trillion KRW each
■ Investing 2.7 trillion KRW in Lordstown, Ohio to procure production capacities upwards of 30Gwh
- Begin construction in middle of next year, begin mass production and supply to General Motors 's next-generation EVs by 2023
- LG Chem gains reliable client and General Motors can receive batteries stably
■ Joint venture with America's top automobile maker to gain a significant and certain edge in the US market
- US EV market growing at an annual average of 26%, 1.32 million cars in 2023
- Utilizing the leading technological and mass production capacities in each sector, as well as cooperation relations knowhow for the past 10 years
■ LG Chem Vice Chairman Shin Hak-cheol
"We will start historic adventure of the US EV market that is growing quickly through the joint venture, and reinforce the global reputation by providing advanced technical solution "
■ Investing 2.7 trillion KRW in Ohio to build 30Gwh (equivalent to 500,000 EVs) plant
LG Chem will establish a joint venture for electric vehicle (EV) batteries with General Motors (General Motors), America's top automaker to pioneer the US EV market.
Regarding this, LG Chem announced that it signed a joint venture agreement with the attendance of General Motors Chairwoman Mary Barra and LG Chem Vice Chairman Shin Hak-cheol at the GW Warren Tech Center located in Michigan, USA on the 5th.
This will be a 50:50 joint venture with each company investing one trillion KRW each, and a total of 2.7 trillion KRW will be invested by 2024 to procure production capacities upwards of 30GWh.
The plant will be located in Lordstown, Ohio in mid-2020, and plans are to begin mass production by 2023. The mass-produced batteries will be supplied to the next-generation EVs of General Motors.
What made this joint venture between the two companies possible was because General Motors needed a stable supply of high-quality batteries since proclaiming that it would change gears into an EV maker met precisely with the needs of LG Chem that was seeking to minimize the risks following large-scale investments in the battery sector, while preoccupying the US market that has been rapidly growing.
With this joint venture, it has become possible for LG Chem to procure a stable client in the American market while General Motors has a stable supply of high-quality batteries.
The reason why LG Chem was chosen as General Motors joint venture partner was because LG Chem was recognized for the quality of its EV batteries and mass production abilities while continuing a strong cooperative relationship for the past 10 years.
LG Chem has been providing batteries to General Motors since being selected as exclusive battery supplier for the world's first pass-produced EV, the Chevrolet Volt, Spark which are the flagship mdel of General Motors.
GM Chairwoman Mary Barra said, "By combining General Motors end-car manufacturing technologies and LG Chem's leading battery technologies, we will be able to accelerate the shift into the age of the EV."
She added, "Through the close cooperation with LG Chem, we expect that it will be possible to enhance the value that can be delivered to our customers."
LG Chem Vice Chairman Shin Hak-cheol said, "Through the joint venture with GM, we will be able to quickly pioneer the US EV market that is growing quickly."
He added, "We will start historic adventure of the US EV market that is growing quickly through the joint venture, and reinforce the global reputation by providing advanced technical solution."
■ Gain a significant and clear edge in the US market with the top automaker of the US
Through this joint venture, the two companies now have the opportunity to gain a clear edge in the rapidly growing US EV market.
The US EV market is one of the world's three largest EV markets together with China and Europe and has been growing at high speeds. According to the market survey institute, Mirae Asset Daewoo Research Center, the US EV market is expected to grow from 520,000 EVs this year to 910,000 in 2021 and 1.32 million by 2023, at an annual average growth rate of 26%.
GM is America's number 1 automaker and by manufacturing EVs for the past decade, it has amassed high levels of technology and large-scale production capacities.
LG Chem has currently procured orders on hand amounting to 150 trillion KRW and is judged to be the top company in the EV battery sector. In particular, it became the first in the industry to build a plant in the US, which has been operating successfully, thereby procuring unparalleled competitiveness in both technological and mass-production capacities.
LG Chem began normal operations of its Holland Plant in Michigan in 2012 and after making repeated expansions, it now has production capacities for approximately 5 Gwh (equivalent to 80,000 EVs). With the establishment of the joint venture in Ohio, it will soon have two production bases in the US alone.
The two companies plan to actively utilize their leading technological and mass-production capacities in each of their fields and the knowhow built through the cooperative relationship for over 10 years to preoccupy the US EV market.
■ Gaining momentum to reach 30 trillion KRW in sales in the battery sector by 2024
LG Chem is the only company in the world with a four-axis production system in Korea and the world's top three EV markets such as the US, China and Europe. Through this joint venture, LG Chem will now have a total of seven production bases comprised of five proprietary production plants and two joint production plants. (See Reference ②)
Based on its safety, performance and price competitiveness recognized by its clients, as well as the technologies accumulated in mass-production experience for over 15 years, LG Chem is continuing to increase orders received, while also focusing on improving production and quality capacities. Up until now, LG Chem's batteries have been installed in 2.7 million EVs.
In particular, by actively finding various business models fitting the market situations such as this joint venture, it plans to solidify its global top position.
LG Chem's current capacity of EV production is about 70GWh and LG Chem is planning to reinforce it up to 100GWh by 2020.
Based on large-scale orders, LG Chem plans to procure stable mass-production capacities to achieve more than 30 trillion KRW in sales in the entire battery business focusing on EV batteries by 2024.
Reference ①: Joint venture location and overview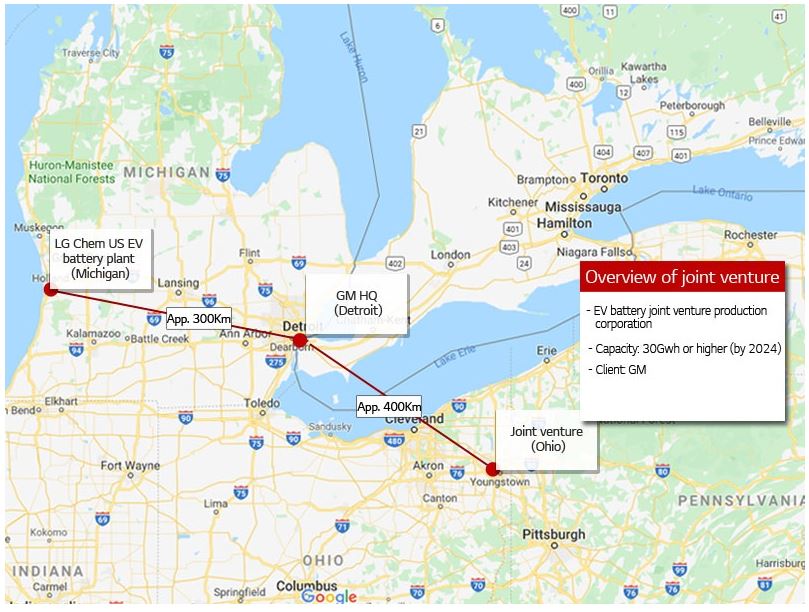 Reference ②: Four axis production system for EV batteries and status of joint ventures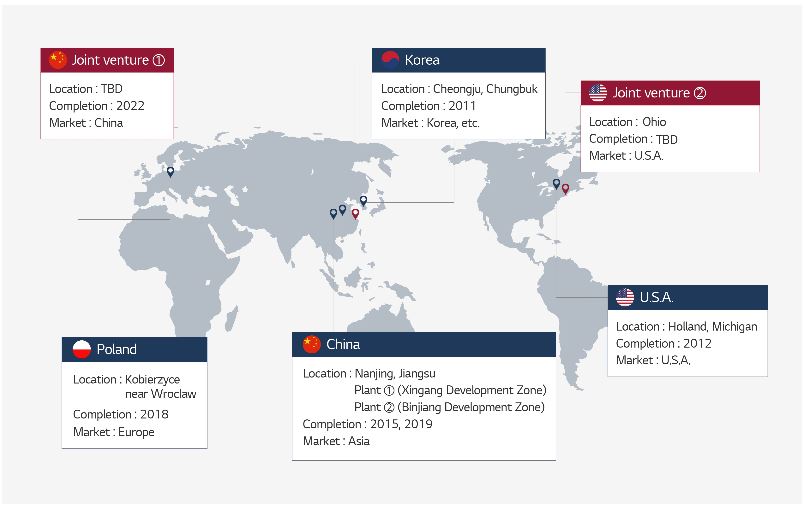 Reference ③: US EV Market Forecast